China is planning provincial quotas for clean energy
In March, China issued a draft renewable energy obligation policy that assigns provincial quotas for hydro and non-hydro renewable electricity consumption. The new system assigns electricity users, including grid companies, electricity retail companies, and large end-users participating in direct power purchasing a percentage quota of their electricity that needs to come from renewable energy.
Users can prove they have fulfilled the obligations by buying renewable energy certificates (RECs), which are issued to renewable generators for each megawatt-hour (MWh) they produce. There will be separate renewable obligations for hydropower and other renewable energy (wind, solar, biomass). Users with an insufficient number of RECs at the year-end will be obligated to buy replacement RECs at a price proposed by power grid enterprises and filed with the National Development and Reform Commission.
The new obligatory renewable quota for generators has many merits, in our view.
The obligation
Importantly, the renewable obligation now has teeth. Provinces that don't meet their obligation will be temporarily denied approval for new coal capacity (or see capacity approvals reduced), and will no longer qualify for designation as energy demonstration zones. Market participants, such as power retailing companies, that fail to meet quotas will see their participation in power trading reduced or cancelled entirely in the coming year.
In the long-term, renewable obligations could help promote exchange of renewable energy between provinces. Many of the provinces that will see the largest increase in renewable energy quota are located in East China. For example, in 2016 Hunan province produced 2.9% of its electricity from wind and solar. Under the 2018 quota, Hunan will need to obtain 9% of its electricity from non-hydro renewable energy, rising to 19% in 2020.
A similar pattern is seen for Anhui, Henan, and Jiangxi provinces. In terms of absolute increase, Shandong, Henan, and Anhui will likely see the largest increases in purchase of wind and solar. Although increases in interprovincial volumes were already planned, eventually the renewable obligation policy could reinforce the importance of integrating renewables via cross-provincial transactions.
Version:1.0 StartHTML:000000260 EndHTML:000095985 StartFragment:000095573 EndFragment:000095902 StartSelection:000095573 EndSelection:000095902 SourceURL:https://www.chinadialogue.net/blog/10574-China-is-planning-provincial-quotas-for-clean-energy-/enChina is planning provincial quotas for clean energy  | China Dialogue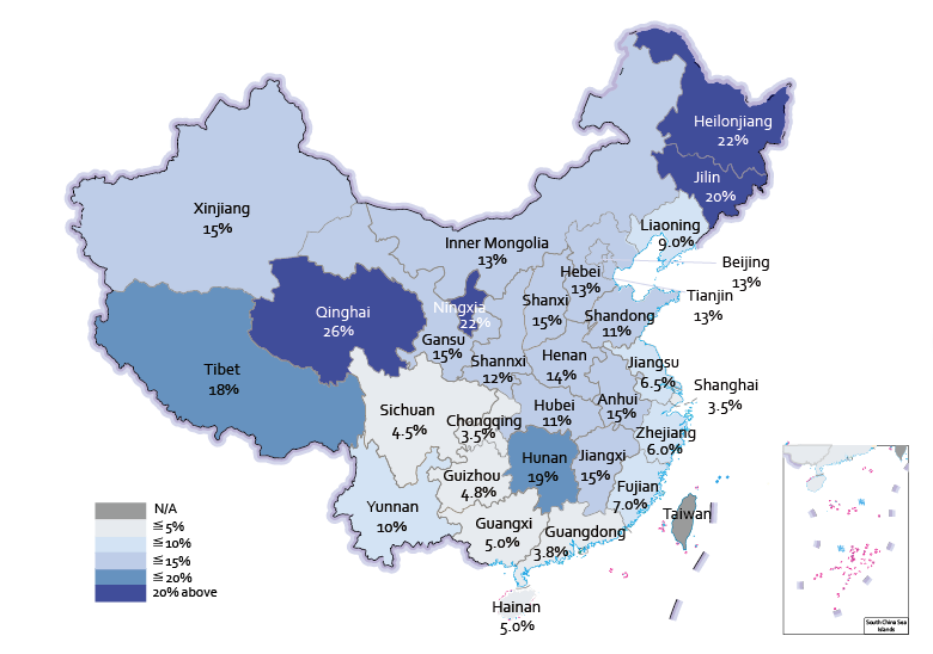 Source: GIZ 2018, based on National Energy Administration data
Overall, implementing provincial renewable energy quotas is a positive development that can help rectify several problems with China's prior pattern of clean energy development. Targets based on output instead of installed capacity, already implemented at the national level, are an important part of encouraging renewable integration. Establishing penalties for non-compliance can also help resolve curtailment of renewable energy by encouraging provinces to import more clean energy rather than relying solely on in-province generation.
As for any new policy, there will be growing pains, and areas for potential improvement, especially once China's renewable energy subsidies phase out after 2020. For this reason, we have suggested a few simple ways in which the renewable obligation policy can evolve. These are:
Specifying how the quota policy will support other reforms that will effect renewable energy, such as carbon markets and power market reforms.
Adding transparency around how the quotas are set and laying out a long-term path for quotas to encourage investment in renewable energy.
Encouraging market development by providing monthly targets to help market participants stay on track with meeting their obligations.
Clearly stating the objectives of the renewable obligation policy and aligning this objective with reducing curtailment of wind, solar, and hydro.
Encouraging direct purchase of renewable energy and excess renewable energy certificates.
Click here to read the full article in China Dialogue